Leonard Imene – BAM: July 2017
Research and Development Officer
Namibia Business Innovation Institute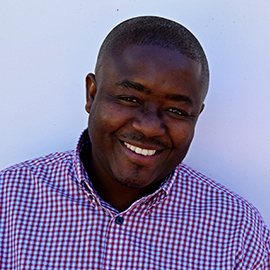 Leonard is responsible for the coordination of the Mobile Lab at NBII, having brought the concept of the Mobile Lab to life when it was established in 2013. The Mobile Lab to serve as a hub for research, knowledge and innovation within mobile technology and applications in Namibia. The Lab supports tech aspiring individuals to develop and commercialize their mobile application solutions. The Lab started off with 5 users and has approximately 600 registered community users.
The stakeholders include students and professionals from industry, governments and academia. The Lab offers a creative space that serves as a growth platform and catalyst for mobile entrepreneurs to bring localised services and applications to the unique markets of Namibia and beyond.
The Mobile Lab has 3 Key Activities
Hackathons – Hackathons provide a platform for the youth to develop mobile and web prototypes that are aimed at solving societal challenges.
The bi-weekly developer circle (including students from NUST, IUM and UNAM) brings together ICT entrepreneurs and other stakeholders in the mobile applications business to share new ideas and assist one another on projects.
Developer's training, aimed at improving the mobile application developers skills at beginners, intermediate and advanced levels.
The Lab under the leadership of Leonard has managed to secure the following sponsorships that have contributed to the Lab's financial independence:
Telecom Namibia – free Wi-Fi in the NBII Mobile Lab since 2013;
UNESCO – Sponsor of the annual mobile developer training of trainers since 2016;
Google – Sponsor of the bi-annual Google Developer Group (GDG) Windhoek events since 2016; and
Southern Africa Innovation Support Programme (SAIS) – Co-sponsor of programming competitions (hackathons) and capacity building since 2013.
Leonard is described by his peers as humble and always willing to assist his peers at NBII. He remains calm even in the midst of difficult situations. Leonard is always present at the hackathons that mostly happen over weekends and throughout the night. He is the longest serving staff member at NBII, having started off as an intern.